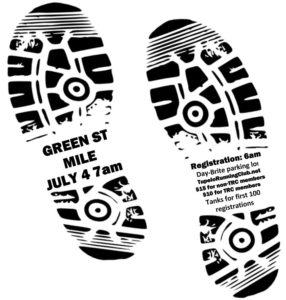 39th Annual Green Street Mile
Directed by: Ester Sanders / Terrance Owens
Date and Time: July 4th, 2023 starting at 7 A. M.
Location: Day-Brite Lighting on South Green Street.
Note: Race Day Registration from 6 AM to 6:45 AM
To help speed up registration process, you may Click Here to print the registration form and fill out prior to race day. (Not Required but encouraged)
Tank shirts are first come first serve
Entry Fee: $10 TRC Members
$15 Non-Members
This event consists of a 1 mile run with race day signup at the Day-Brite Lighting office on South Green Street.
The race will begin promptly at 7 AM ending near the parking lot of Day-Brite where refreshments will be available. The award ceremony will be held immediately after the race.
Awards: Trophies to top 3 finishers and 1st place Masters for both male and female.
Male and Female Age Groups:
Top 3 each group.
12 and under, 13-19, 20-29, 30-39, 40-49, 50-59, 60+.